Bio:
Nathaniel operates a kennel with 17 Alaskan Huskies located just outside Whitehorse YT Canada. While running his team in numerous mid distance races he has also finished a BCS degree at Yukon College.
Info:
Age: 23

Born: Stephenville NL
Residence: Mt Lorne YT
Experience : 6 years
Occupation: Student
Race Experience:
Hudson Bay Quest 200 5th
Yukon Quest 300 3rd
Percy Dewolfe 200 3rd,5th
Yukon Quest 1000 13th
Why Dog Sled Racing?



From the time my Dad picked up two dogs when I was 12 I was hooked on dog sledding. I ran in my first race at the age of 16, getting the red lantern but finishing nonetheless. Since that day it has always been my goal to finish the races that I enter in competing to the best of my teams ability, therefore I have never scratched. Over the years I have made mistakes, learned alot but still have much to learn. Two years ago I purchased my own team of Alaskan Huskys and started my kennel. My kennel name (Step Up Kennels) reflects on my ambition to always improve. This past winter I completed a huge milestone, finishing the Yukon Quest. This race had been a dream of mine since I first heard about it and now that it has become a reality i can truly say it did not disappoint. The race humbled me and made me realize what the dogs can do, and it's incredible.
I am currently thinking about which races I will enter in this upcoming season but theres one thing that i do know. I will train the best that I can and meet each new challenge head on.

THANK YOU!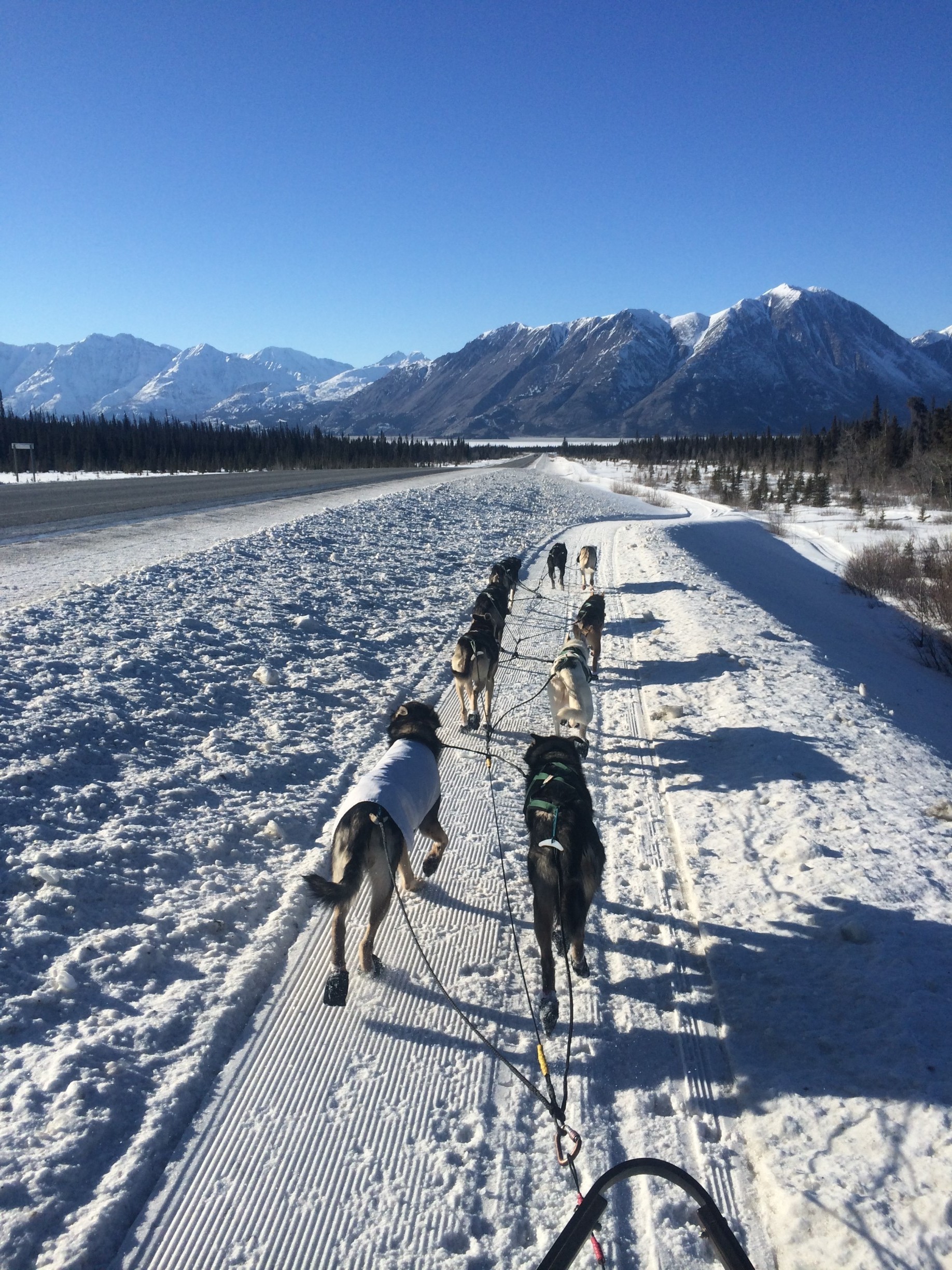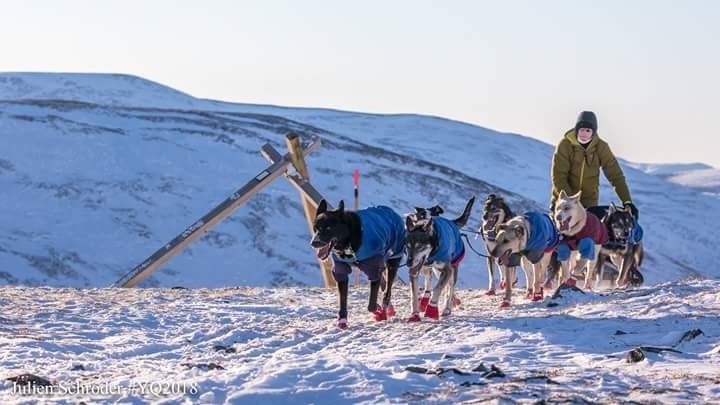 Eagle Summit in the 2018 Yukon Quest
Yukon Quest 2018 Recap

This whole experience is hard to put into words, truly an experience of a lifetime. The race itself was all I hoped it would be. A truly rewarding yet challenging experience. From the start my title as a "rookie" became clear to me as I grappled with challenges that presented themselves. I had a race plan that I quickly threw out the window after the first few runs. This was as I realized less of a race and more of an endurance test where the challenge was to just keep moving. The first few runs in the race went smoothly, my team of 12 were running at 9mp/h and resting well on the trail. Then came the first summit, Rosebud. I started the climb just as the sun was disappearing and when I crested the mountain daylight was fast dissipating. The climb itself went wonderfully, the dogs performing very well, never looking back. I did not know however at this moment that on the other side awaited the most important few miles of the race for me and my team. The descent was gradual at first but quickly steepened. I have never experienced this type of hill before and neither have the dogs (only 1 of whom had ever ran on this trail). As I descended, the trail kept switching from little snow with rocks showing to deep sugary powder snow. This switch back and forth allowed the dogs to gain acceleration while my brake and drag mat were clogged with snow. So much so that my brake claws could not touch the ground through the snow. The combination of unwanted speed and soft trail resulted in injuries to the team. Therefore in 101 I had to drop 4 dogs. This was a huge blow and demanded a huge change in strategy. Less dogs meant that the remaining dogs had to work harder and the trail ahead of us was anything but flat. At this time I seriously contemplated scratching. To be down 4 dogs this early in the race was a real test. We still had over 800 miles to go. Leaving 101 we climbed Eagle summit, and with 8 dogs it wasn't a problem. That was a real confidence booster. I had been training all winter with 6, 8 or 10 dog teams which really helped me going forward. Some people say that I should have scratched then since it was too hard for the remaining dogs, I felt however that I owed it to them and me to continue, after all we just spend over 2000 miles together before the race and I knew they could do it. If I felt like I was pushing them too hard I would have stopped. I threw out my race plan and just went off what the dogs were telling me. I rested when they were tired for longer than I wanted to. This meant that I dropped back in the race but the dogs were happier and that was my goal from the beginning. I was no longer focused on racing but on getting to the finish line. The next 300 miles into Dawson were filled with many moments of awe. I marveled at my team's capability and loyalty to me as I dictated when they should run again. The brutal cold (-45) was a huge factor in these runs. It changed camping from something I would look forward to into something I dreaded. Stopping meant that all the sweat that was accumulating from running would freeze and I would get cold very fast. It also meant that I had to remove my mitts and deal with: booties and dog food. My rests ranged from 2 to 6 hours on the trail and it was never possible to sleep in the cold, even with a fire. The dogs, nestled in their straw were also less motivated to move when the temperatures were this extreme. Coming into Dawson we had headwinds and drifted trails to deal with and it was a huge relief to reach Dawson. Here my handler crew took over and did an amazing job looking after the dogs. The 36 hours however did not create a new team like I hopped. The cold weather meant that even though they were fed around the clock (every six hours) the dogs did not put on any weight, the energy was burned just trying to stay warm. When it was time to go the team looked flat and continued on that way for many miles until they settled into an old rhythm. The next six runs (200 miles to Pelly) truly tested me. Before the race I didn't realize how alone you feel out their. The silence for hours and days really gets to you especially mixed with sleep deprivation, extreme cold and challenging trails. It gets to the point where you long for sounds, or sights, anything that screams "human" at you. I did not expect this and have a new appreciation for people who can deal with this year after year. On top of this the trail often is really exposed either on mountains or rivers. When you are in the dark hour after hour small bursts of panic begin to emerge. You worry about small things such as headlight batteries or your sled brake and the "what ifs" which are numerous since so many things that can go wrong and turn a fun time into an emergency. I made it to Pelly however with a healthy team. The next 300 miles or so was familiar territory from the year before. I competed in the Quest 300 in 2017 and knew these trails. The only surprise was overflow outside of Braeburn. I did have a warning but the water was beyond what I expected. It was in the woods and about 2 feet deep in places. Basically the trail filled up with water and had a base of ice with trees lining both sides for what felt like forever. I had to persuade my leaders through it while making sure no dogs were getting tangled in trees behind them. The sled of course (now driverless) flipped in the water and filled with water. Therefore my gear and I emerged coated in ice. We then travelled the 10 miles further into Braeburn. The trail this year backtracked so the above scenario happened again. At that point after emerging from the water we had over 70 miles left to go. The next obstacle that presented itself was Lake Laberge. The trail into Whitehorse presented another challenge…snow. The trail had disappeared and the wind picked up. The only proof of a trail visible was the markers which my leaders quickly learned to follow. This run truly made me proud of my team. Their was no trail, yet they trucked on regardless. Not fast, just solid, one foot in front of the other. Emerging from the snow, close to Whitehorse I received tons of support. People yelling out their congratulations and food handed to me as I went past. The finish was the same, a moment I will never forget. All in all an amazing experience and here's hoping one that I can repeat one day.